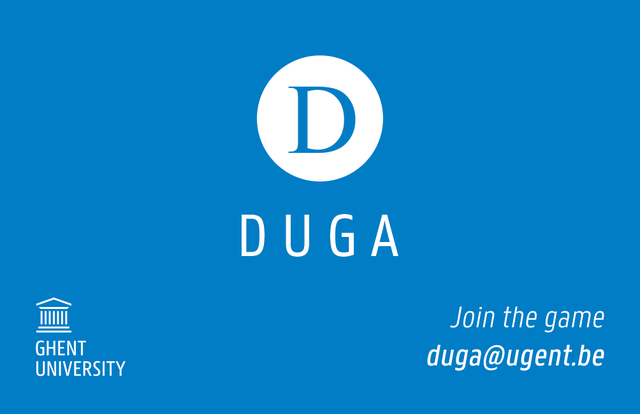 DUGA available for the entire UGent community!
From idea to project to finished product: DUGA 1.0 is ready for launch!
We are proud to announce that every professor and lecturer at UGent can use DUGA within his or her course as from Monday 1 October 2018.
For those who do not yet know DUGA: DUGA is a mobile, educational app, developed for and by UGent teachers in close collaboration with DICT. Please find more information here: http://www.accountingeducation.ugent.be/en/duga
In DUGA students can play with questions about the course content. Students can play within one course or across curriculum courses and by doing so students earn badges and points. Players can challenge their friends or can be challenged and can create personalized leaderboards. Everything is possible! Students will love to play DUGA during the breaks and at dead moments.
DUGA is an enjoyable addition to every UGent course. That is why we want to motivate all professors and instructors to take part in this project. Quickly enter questions about your course in a very intuitive system, specially developed for the app. These questions automatically end up in the game at a time chosen by the professor or instructor.
But there is more: DUGA can also be used during class time as a game to play with the whole group. This fits perfectly in the 'active learning' philosophy and DUGA will create a lot of fun when you use it in class.
Getting to know DUGA is very simple: there are videos, manuals and workshops. Start today with the game: send an e-mail to DUGA@UGent.be and we will create a personal CMS (content management system) for you to start entering questions. Or even better, take part in one of the following workshops, where we help you to get started:
October 12, 13h tot 14h, Sint-Pietersplein 7, Meeting room 0.1
October 26, 13h tot 14h, Sint-Pietersplein 7, Meeting room 1.1
November 9, 13h tot 14h, Sint-Pietersplein 7, Meeting room 0.1
November 23, 13h tot 14h, Sint-Pietersplein 7, Meeting room 0.1
Subscribe here.
Good luck!
Elke Minnaert, Evelien Opdecam, Patricia Everaert, Karel Van Achte, Thomas Berton